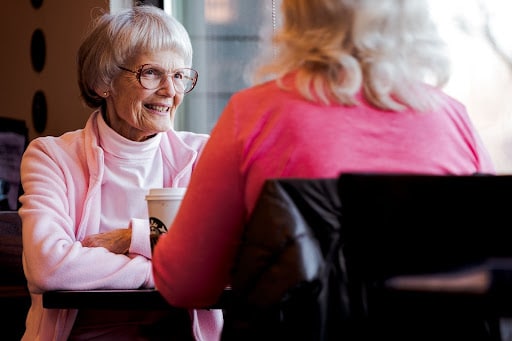 It's hard watching the ones you love most get older. It's even harder for them to admit when they need assistance. Seniors want to remain independent and feel like they're in control of their lives. It's not uncommon for seniors to pretend everything is okay, hide the signs from their loved ones, or majorly downplay their daily struggles. 
Don't ignore the warning signs. 
If you have a gut feeling that something is off or that they may need help at home, it's time to address it. It's your responsibility to keep an eye out for the warning signs and improve their quality of life.
However, before you catch them off guard or bombard them with questions about how they're feeling, you'll want to start monitoring their interaction and keep a closer eye on them. For some, it's a sensitive topic, so you'll need to tread lightly and be there for them as they go through these life changes. 
Here are some of the warning signs you should look out for. 
Struggling with day-to-day activities 
Whether it's something small like they ask for your help to move a table, or it's taking longer than usual for them to take a bath or shower: These are some of the first signs to keep an eye out for. This shows they don't have the same energy levels or strength to complete day-to-day activities alone. 
Other things to look out for are if they have difficulty grooming, dressing, or going to the bathroom alone. These are core activities that every individual needs to be able to do for their overall health. If they're showing signs of struggling with daily living, it may be time to speak up or look for help. 
Changes in appearance 
Changes in appearance happen over time. They stop wearing that shade of lipstick they love or brushing their hair every day. Maybe, they've been wearing the same outfit every time you see them, or they have a strong body odor because they aren't taking showers as frequently. 
Don't let these signs go unaddressed. 
Keep an eye out for bruises, wounds, burns, or other physical warning signs that show a change in mobility and habits. If they're struggling with making dinner, they may burn themselves or have cuts on their arm. If they can't complete basic daily activities, they may have visible wounds. 
Behavior, mood, and changes in judgment 
Getting old isn't easy. There's emotional turmoil that comes with these small lifestyle changes that your loved one is dealing with on their own. If they lack motivation, are irritable, or have lost interest in their favorite hobbies, it's time to speak up. 
Even if they won't tell you themselves, they may be emotional consequences of aging and don't know how to address them with you. Keep an eye out for:
Mood swings or irritability 

Losing track of time

Not answering their phone calls or showing up to family events

Physical or verbal abuse 

Forgetting where they put things or showing signs of confusion

Sleeping in or not sleeping enough 

Can't remember names or places they've been
Neglecting responsibilities around the house
Their home is a reflection of how they feel. If things aren't in the same places, or if their kitchen isn't as clean as it usually is, that may be a sign they're struggling with tackling their chores and tasks around their home. 
Pay attention to the living room, their garden, or the kitchen. Does something feel off? Or are the mundane tasks not getting done? They may need some extra help around the home.
You can count on SeniorCare Companions for help
The older you get, the easier it gets to lose track of your responsibilities. Whatever you do, don't ignore the warning signs. If you don't address the problems, they could hurt themselves, or it can complicate things even more. 
As their friend or family member, it's your responsibility to speak up and find a trusted caregiver to help them with their day-to-day life. 
Don't worry, you don't need to tackle these tough conversations alone, we're here to help.
At SeniorCare Companions, we want to help alleviate some of the stress that comes with getting older for you and your loved one. Our team of professionals is here to help your loved ones adjust to the changes in life they are facing and help improve their quality of life.