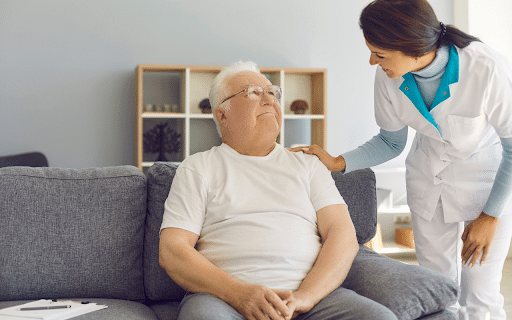 If you're considering full-time home care for yourself or a loved one, it helps to understand the benefits of live-in versus 24-hour home care. Both are great options in place of assisted living as they allow you or your loved ones to benefit from support and companionship from the comfort of their home.  
We will walk you through the pros and cons of each and what makes each more suitable for different needs and home situations. If you are looking to speak to somebody you can learn more about either live-in or 24-hour home care services by contacting Senior Care Companions through their website here.  
In this article, we will help you get started with a bit more information, so let's dive in and examine some of the similarities and differences between the two to give you a better idea of what will be right for you.  
Live-In Care 
As the name would suggest, live-in care does mean that you or your loved one will have a person living in 24-hour shifts at the home. This does require accommodations – a room and a bed so that they may sleep during their 8-hour sleep breaks. The caregiver is also granted a 4-hour break in which they are allowed to leave the home. 
If coverage is required during those 4 hours, usually caregivers will arrange with a family member, but if this isn't possible, you can arrange to have another caregiver cover the 4-hour break. 
This is true as well for the 8 hours during which the primary caregiver sleeps. This means that you or your loved one will only need to employ 2 – 3 caregivers total to cover the week, as they can work only a maximum of 4 12-hour shifts or 5 8-hour shifts per week. To recap:  
1 caregiver per 24 hours  

8-hour sleep break 

4-hour break 

The flat rate per day includes a 4-hour break 
Pros 
Fewer caregivers allow for more consistent care and for you or your loved one to build a stronger relationship.  
Cons 
The cons arise from the need for sleep and a break. The caregiver is not able to directly supervise you or your loved one while they are sleeping. It is possible to get coverage for these times, however, that would incur another charge.  
24-Hour Home Care 
While live-in home care has significant benefits in the consistency of care, it faces a challenge in maintaining that standard where more constant care is required. Depending on the level of care that you or your loved one needs, you may wish to consider 24-hour home care.  
Rather than having a single person taking breaks over shifts that last for 3 – 4 days at a time, you will have a fresh set of ears, eyes, and hands to assist you every 8 – 12 hours. This makes 24-hour home care an ideal choice where care and support are needed throughout the day and night. 
While this does lead to more people coming through the home, it is also helpful in situations where space for a live-in caregiver is not available. If this is the case, the number of caregivers and cost can be reduced in situations where they can sleep.  
At least 2 caregivers working 8 – 12-hour shifts 

Optional sleep break billed hourly if awake and flat rate if able to sleep 

Hourly billing in during the day 
Pros  
The major benefit associated with 24-hour home care is the ability to have constant care. With either 2 caregivers working 12-hour shifts or, where more alertness may be required, 3 caregivers working 8-hour shifts, constant care is assured. 
Cons 
The drawback to having constant care is that more people are coming through the home and at a higher cost. 
What Makes Live In or 24-Hour Home Care Right for Me? 
Generally speaking, the first consideration for making this decision is the level of care that is required. If a more relaxed program of care is needed at this point, then a live-in caregiver may be able to provide everything necessary.  
With this, of course, space is a consideration and may be the deciding factor as well. If a higher level of care is needed – especially round-the-clock, you may find 24-hour care to be more suitable.  
The best thing to do is to speak with the highly experienced and compassionate specialists at Senior Care Companions to learn more about what is right for you.