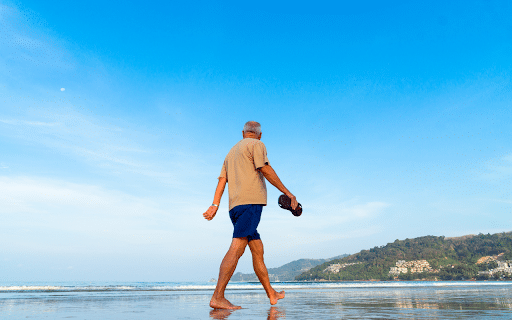 The ability to remain self-sufficient is essential for everyone at any age. That does not change for seniors. Independence is often one of the things they feel they have control over. 
Often, seniors can remain independent but need help with day-to-day tasks such as housekeeping, monitoring medications, and care. 
Keeping seniors involved in decision-making helps smoothly transition to hourly or live-in care. This care enables them to stay self-reliant while receiving help from professionals. 
The aid and amenities assisted living communities offer are helpful and even luxurious. Yet, most would prefer to remain in the privacy and comfort of their homes as they age. Moving can bring fear and emotional distress. The thought of leaving memories and the surroundings they love can be overwhelming. 
In this article, we will discuss ways in which you can assist seniors in remaining independent while providing them with the care they need.
Plan Future Care Together and Include Them in Conversations and Daily Tasks 
Making plans with your loved ones can empower them. Inclusive conversations will make them feel like they are part of making important decisions about their care. 
Include them in discussions and keep them up to date on new information. You can also ask them to help plan meals, prepare food, do laundry, and do other daily tasks. Seniors feel the most fulfilled and self-sufficient when they do what they choose. Feeling involved makes them feel more fulfilled and happy. 
Provide Choices 
Provide them with healthy choices that will keep them involved. Give them options for clothing, meals, and activities every day. Providing choices will allow them to feel more in control of their daily lives while staying healthy and within limitations. 
Make Home Modifications for Safety
You can make various upgrades and modifications to a senior's home to help them remain liberated and active. It is also vital that the house be safe and free of hazards. When an elderly person falls and suffers an injury, this can often leave them with mobility issues and losing independence. 
To prevent any dangerous falls, ensure you remove all risks from their home. Add handrails to stairways and anywhere necessary. Other helpful modifications include: 
Widening doorways for their wheelchair or scooter

Installing ramps around the home 

Kitchen modifications so they can safely prepare easy meals 

Smart home devices seniors can voice operate 

Medical alert systems for emergencies 

Hoyer lifts to navigate mobility issues without help 

Floor modifications such as no-slip flooring 
Making modifications to the home to ensure safety makes remaining at home with hourly and in-home care a viable option. 
Make Day-To-Day Items Easily Accessible
As seniors age, bending down, reaching high locations, and crouching is more complicated. Ensuring items in the kitchen and bedroom are easily accessible will make living a more independent life possible. 
Make adjustments so that any items they use throughout the day are at eye level by using or installing lower shelving options.
Get a Mobility Scooter for Seniors With Movement Issues 
Wheelchairs can often leave seniors feeling isolated and unable to leave their homes. Mobility scooters allow seniors to get out and about. 
They can meet up with friends close by for social time or just go out for fresh air by themselves. Check their insurance plan for coverage. 
Help Them Exercise and Stay Active 
Encourage your elderly loved one to get moving, exercise, and stay active daily. When a person becomes less mobile, it causes more limitations in their ability to remain active. 
Daily physical activity will increase bone and muscle strength. Strength will allow them the physical ability to stay active for longer.  
The Benefits of Hourly and In-Home Care 
Seniors face more challenges as they age. They lose the ability to do things they once did without help. Hourly care allows your loved ones to receive 24-hour care while at their house. 
Those with dementia or other physical limitations can receive personalized and compassionate care. Hourly and in-home care are also perfect for those at home recovering from illness or with special needs. The caregiver could provide services including: 
General housekeeping

On-call medical care and services 

Transportation for appointments and daily activities 

24-hour medical monitoring 

Medication management 

The support of compassionate and trained staff is available 24 hours a day 
Senior Care Companions provides quality non-medical hourly and in-home care. Personalized care allows seniors to remain independent at home and within their community. 
Senior Care Companions offers compassionate and cost-efficient care with diverse expertise and specialties. Seniors stay happy and active in their home and community with hourly professional care and medical monitoring.