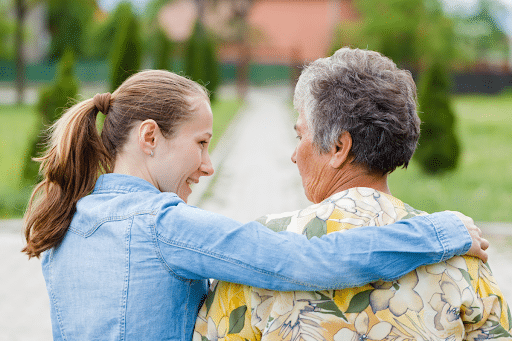 Music is a tool that brings people together and boosts our endorphin levels. It reminds us of the good times and happy memories. When a good song plays on the radio, you sing along and smile at your favorite parts. These feelings that music provokes are universal and can even help your loved ones with dementia, too.
Living with dementia isn't easy. It can leave your loved ones feeling confused and disoriented. The good news is that music can act as a link between their past and the present. Music can promote a stronger connection between both of you and make them feel more comfortable with their surroundings.
Let's look at some of the benefits and how you can use music to grow a deeper connection with your loved ones. 
The benefits of music for dementia  
Music is everywhere and the benefits are endless. However, the way an individual with dementia experiences music may be different than you. 
Here are two of the universal benefits: 
Reduce stress
Studies show that music can lower your heart rate and cortisol levels. When listening to music, our bodies release endorphins and help us feel more at ease. Introducing music to your loved ones with dementia can help them physically feel more comfortable and stress-free at the moment. 
Relieve anxiety 
Anxiety is prominent in patients with dementia. Ongoing feelings of confusion and stress can be tolling on their mental health. Music can help calm their nervous system and give them a sense of relief. A study done by neuroscientists in the U.K. found that listening to music can help reduce anxiety by up to 65%.
How to use music with your loved ones
There are steps you'll want to take to see if music has an impact on your loved ones. 
Start slow, be patient, and consider the following:
Find songs they enjoy
Ask yourself what kind of music your loved ones will enjoy the most. What songs do you think would remind them of happier times or evoke memories? Reach out to family and friends, ask them what songs they used to listen to back in the day, and build a playlist you think your loved one with dementia will enjoy. 
Eliminate interruptions or distractions
Once you have a playlist, you'll want to try to eliminate all other competing noises or distractions. Distractions can be overwhelming and overstimulating. To ensure their complete focus is on the music, you'll want to turn off the TV, close the door, and play the music at a comfortable volume. Avoid music apps or players that include commercials: this might cause confusion and be off-putting. 
Dance!
Encourage them to dance, move around, and have fun! It's one thing to listen to music and another to experience it. Even if you're clapping along or tapping your fingers against the table, every small action helps them fully indulge in the beauty of music. If you catch a smile on their face, you're headed in the right direction. 
Watch for reactions
It's not always easy to connect with your loved one with dementia. You may feel like they aren't catching on right away or don't feel that excited about a particular song. If you're getting a negative reaction from them, try changing the song, switching the genre, or simply trying a different activity. 
How Senior Care Companions can help
Music doesn't affect everyone's cognitive status. Don't feel discouraged if it doesn't seem to affect your loved one. There are several ways to build a connection with them and make them feel more comfortable with their surroundings that don't involve music. Dementia and Alzheimer's disease are different for everyone, and you'll need time and patients to find what works for them. However, you shouldn't have to go through this journey alone. 
At Senior Care Companions, we provide hourly home care and live-in home care solutions for individuals struggling with dementia and Alzheimers. Our trusted caregivers are there to help with everything from medical monitoring to housekeeping and on-call medical services. 
Contact us today to learn how we can help.