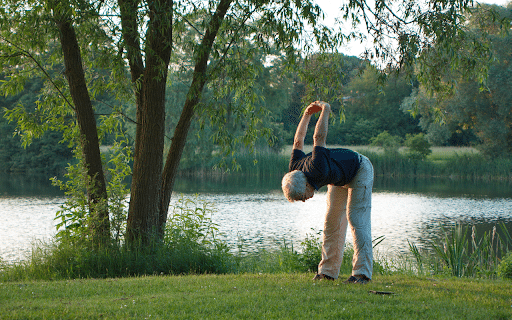 As we get older, our bodies start to change. You may notice you don't have the same energy as you once did, but that doesn't mean you can't still prioritize physical activity and continue to enjoy your life, however you want.
There are tons of benefits to prioritizing physical activity for seniors. Staying active can help individuals who suffer from arthritis control unwanted joint swelling and pain. 
It may also help reduce your risk of falling or fracturing bones. Once you start to make a routine out of exercise, you may also feel a new sense of well-being, which can help combat signs of depression. Exercising every day has also proven to help increase blood flow to your brain and body, which helps prevent dementia, high blood pressure, and diabetes. 
If you're ready to take control of your life and start prioritizing physical activity, we're here to help lead the way. 
Here are a few exercises and the benefits to help you get started. 
Yoga
Yoga is known for being easy on the body, and you can go at your own pace. It can also help improve your balance, flexibility, and breathing patterns. 
If you're interested, you'll want to start with some beginner yoga poses and breathing exercises. 
Taking a daily walk
If the weather permits, a daily walk is one of the best ways to get your steps in for the day, get your body moving, and of course, enjoy the great outdoors. Taking the time to go on a daily walk every day can help improve your heart health, mental health, and lower your blood pressure.
We recommend turning your daily walk into a routine. Every day after you wake up, go on a 30-minute walk around your neighborhood. You can also take a walk to unwind and cool down after a long day. No matter what you decide, the first step is to turn it into a habit so you can enjoy the benefits for years to come.   
Light strength training 
Strength training is one of the best ways to put different muscles to work and gain muscle mass. The biggest benefit is its ability to increase your energy levels, muscle mass, and bone density. After the age of 30, our muscle mass starts to decrease by 3-8% every decade. 
The best way to combat this ongoing change is by prioritizing strength training in your everyday workout routine.
To get started we recommend:
Squats to Chair

Side Planks

Wall Push-Ups

Chin Ups
If you have any weights hanging around your house, don't be afraid to pick them up and do some light bicep curls or rows.
Try out a treadmill 
Taking a walk on the treadmill can be a great way to increase your daily step count and get your body moving. Not only is it not too hard on your joints or knees, but you get to pick the speed and time. 
It's similar to going on a walk, except you can choose to watch your favorite show or read a book. Try your best to jump on the treadmill for 30 minutes a day, five days a week. If you're ready to take it up a notch, you can play with the speed and incline for more of a challenge, but try not to push your body too far if it's uncomfortable. 
Water Aerobics 
Water aerobics can be a great, full-body workout. When you exercise in water, you put less stress on your joints. This makes it a great workout for anyone with chronic joint pain or arthritis. If you're interested, we recommend checking out some local recreation centers near you and seeing if they have any water aerobics classes available.
If you don't already work out regularly, we recommend starting with slow, short intervals of 10-15 minutes of moderate physical activity. From there, you can bring it up to 30 minutes, five times a day.  
At Senior Care Companions, our caregivers can help you reach your physical activity goals and lead you to live a better quality of life. Whether you need Dementia & Alzheimer's care or general home care. We can help you prioritize physical activity and make it an integral part of your daily routine. 
Remember: always listen to your body. As your body changes with age, never feel discouraged about working out and prioritizing your health. If you're ready to explore new avenues of physical activity and care, make sure you let your friends and family member know so you don't have to be alone in this journey.