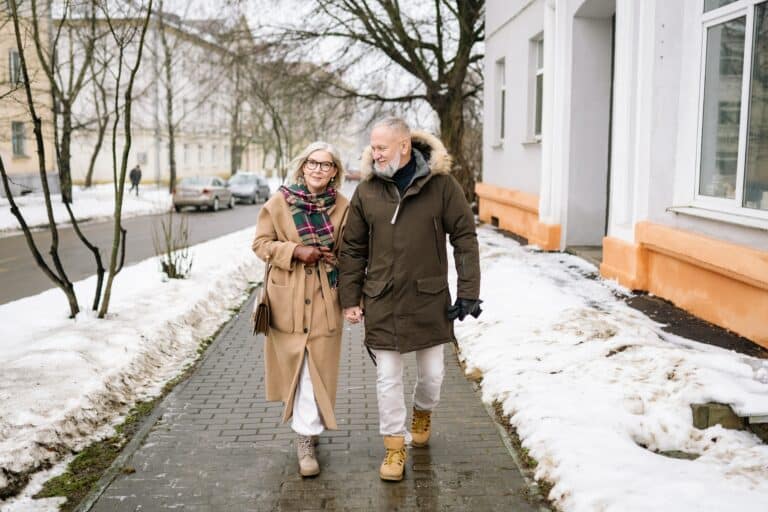 The cold winter months aren't easy for everyone. The chilling temperatures, snowstorms, and gloomy weather can negatively impact your mental health and make it challenging to get things done throughout the day. This is especially true for seniors that are living alone. During winter, it can be hard to leave the house, leaving seniors feeling isolated and lonely. Seniors are also at higher risk of health problems and injuries related to the winter weather.
The best way to combat these winter weather challenges is with precaution and prevention.
We're here to walk you through five health and safety tips to help you or your loved one combat the colder months ahead.
Let's take a closer look:
Keep an Eye Out for Ice
If you live in a colder climate area, you'll want to be careful when walking outside. Icy roads and sidewalks can lead to a terrible fall if you aren't careful. This is especially true for seniors because falls can lead to head trauma, hip injuries, and fractured bones. 
You'll want to slip on a pair of non-skid soles when you go outside when there is ice or snow on the floor. Ice isn't always easy to see, so be mindful of the temperatures and recent weather reports. When you come back indoors, slip your shoes off and leave them at the door. This is to ensure none of the ice attached to the sole of the shoe makes the rest of your house slippery. 
Fight Off Seasonal Depression
Seasonal depression is a serious issue, no matter the age. When the snow starts to fall and the temperatures drop, it can be especially challenging for seniors to get around town or have opportunities to socialize. This can lead to feelings of loneliness and isolation. 
If you're feeling lonely, don't be afraid to ask for help. There are senior care services that can help you combat these feelings of loneliness and help you out when you need it. 
If you have a loved one that lives alone, consider setting up a check-in system to call and check in on them. Take some time to stop by their house regularly or ask one of their neighbors to swing by when they have a chance. This will give you the peace of mind you need and ensure they're always taken care of. 
Dress Warm
Certain parts of the United States can see below-freezing temperatures. If you aren't wearing the proper clothes, it could lead to frostbite or hypothermia. Always keep a thermostat close by or check the weather forecast on your phone. If you need new winter clothes, connect with a friend or family member to take you to the store. 
Keep in mind: Your body temperature should never drop below 95 degrees Fahrenheit. If you feel your body temperature begin to drop, you'll want to seek medical attention immediately.
Prepared for the Worst
Anything can happen when the weather starts to take a turn for the worst. That's why you should always be two steps ahead of any winter-related problems.
If you rely on a fireplace, lantern, or gas heater to keep you warm, you'll want to have a carbon monoxide detector. These heat sources can lead to carbon monoxide poisoning if you aren't careful. If you already have a sensor in your home, check the batteries and ensure it's properly working. 
Another recurring problem is power outages. If a bad storm hits, you could be out of electricity for days or weeks. Make sure you always have a stockpile of blankets, warmer weather, and food if disaster strikes. 
Revisit Your Diet
The gloomy weather can lead to a vitamin D deficiency. To get more vitamin D in your diet, you'll want to incorporate more calcium-rich foods into your diet or add a multivitamin into your daily routine. This will also ensure you have a strong immune system to fight off any illnesses throughout winter. 
Ask For Help From Senior Care Companions
Combating the colder weather isn't easy. If you're struggling getting groceries, going to the pharmacy, or taking care of daily tasks around the house: Don't be afraid to ask for help from Senior Care Companions. Our team is here to help alleviate some of the stress that comes with the colder months and give you the assistance you need. 
Contact us today to see how we can help.